The Various Coating Application Methods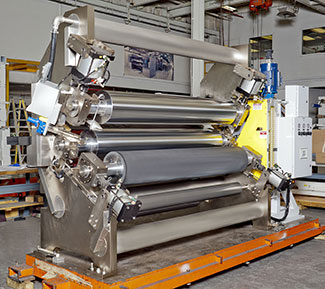 There are many different coating application methods used today. Below we examine a few of the most prominent ones:
Direct Coating/"Floating Knife" Coating
When using the direct coating method, "the liquid coating is applied to the fabric while being run at tension under a floating knife blade, the distance between the fabric and the knife blade determines the thickness of the coating."
The person coating can adjust the angle of the blade and manipulate it so that the coverage is varied. For best results, the liquid coating should be gelatinous as to stop it from absorbing through the fabric. After this, the coating needs to be dried.
This coating method is most appropriate for filament yarns because the staple fibers in spun yarns have the possibility of extending beyond the surface. This would cause an asymmetrical finish.
Direct Roll Coating
In this process, the liquid coating is rolled onto the fabric using a roller that is "suspended in the coating solution." To prevent an overabundance of the coating solution, people often place a blade close to the roller.
Padding
This coating technique is commonly used as a textile finishing method. However, it can also be employed for the application of a wide array of coatings. Such coatings can include "a fiber coating for the application of micro or nano materials or chemical compositions."
For this method, the fabric is dunked into the coating solution. Then, the extra coating solution is removed using rollers. Finally, the fabric is dried and cured.
Calendar Coating and Hot Melt Extrusion Coating
Calendar coating allows for smoother and thinner coatings, since it involves fabric going through a series of heated rollers. These rollers will burn off any surface fibers, which make the coating smooth. Due to the presence of multiple rollers, coating can be applied to both sides of the fabric at the same time. The thickness of the coating depends on the "width of the nip in-between the rollers."
Hot Melt Extrusion coating uses a similar coating application method to calendar coating. However, the coating is melted from "granules fed to heated rollers which then nip the coating to the fabric." This process is commonly used for thermoplastic polymers.
Foam Finishing
Rounding out our list of popular coating application methods is foam finishing. This was designed to be a more eco-friendly version of padding (see above). The chemical used in this method doesn't need as much product in weight but amounts to a high surface area. Foam finishing dries faster as well because it absorbs less liquid. This, consequently, means that less liquid is wasted.
This method is most suitable when coating heavy fabrics such as rugs and carpets.
National Coating Corporation
National Coating Corporation is a contract manufacturer specializing in water-based and solvent-based coating and saturation services and we are ready to help you with your unique needs. To learn more, visit our Capabilities page.